Preserving our planet
We promote energy efficiency and take sustainable actions internally to protect our environment.
We keep the environmental impact of our business as a priority, taking a proactive approach for over 10 years. We are working on better controlling our energy consumption and the good management of raw materials at our sites in Lausanne and Martigny. In addition, various sustainable actions are implemented and promoted to our collaborators in order to limit our daily carbon footprint.
At our headquarters
We are convinced of the need to be engaged in sustainable climate protection. We are members of the Swiss Private Sector Energy Agency program, committed to actively reducing CO2 emissions and optimizing energy efficiency. Through this initiative, the Federal Government, the cantons and the private sector partners align on agreed objectives
-25 %

energy consumption since 2014, despite a staffing increase of 39%

-17 %

electricity consumption per year, due to LED lighting since 2018
At our Manufacturing Site
We strive to optimize the energy of our buildings and our entire production chain to keep energy consumption as low as possible despite a significant increase in production. Among the many improvements made, of note: the installation of a heat pump and energy recovery, the installation of LED lighting, insulation, preventive maintenance, the renovation of a building with the installation of low temperature radiant heating. In addition, we have reduced the use of halogenated solvents by 3000 units (3000g => 1g) since 1997.
+212 %

production of Triptorelin (months of treatment) since 2010

-37 %

gas consumption since 2010

-61 %

water consumption since 2010

+27 %

electricity consumption since 2010. We have stabilized our energy consumption despite the substantial increase in production activities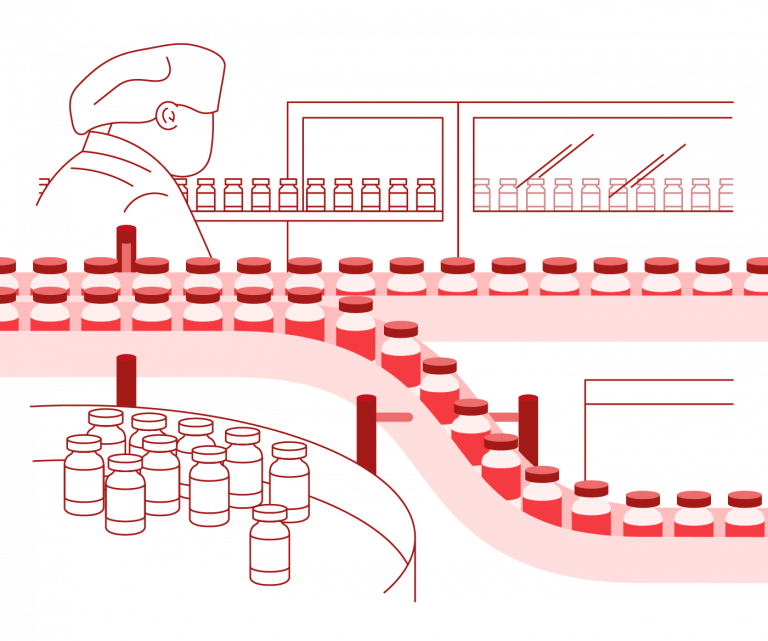 In our day-to-day activities
Sensitive to sustainable development issues, we are gradually implementing new measures to reduce our environmental impact. All departments are involved and sensitized to eco-friendly gestures. Employees play a key role in our various initiatives including
Managing waste

Sorting bins and recycling of paper and cardboard, recycling of IT equipment for donation to associations, use of compostable consumables (glass in meeting rooms, etc.)

Reducing waste & paper

Removal of water bottles in favor of pitchers and water dispensers, whole grain coffee machines in replacement of individual capsules, Printers configured by default in black & white and recto/verso, electronic lab books since 2021 (replacing paper), etc.
Reducing the use of the elevators with the "Attitude téléthonique" initiative

Staff are encouraged to use the stairs instead of the elevators. All the savings achieved through a reduction in elevator journeys are donated to the Telethon Swiss Action Foundation, which helps families affected by rare diseases.

Eco-friendly collaboration

We encourage an eco-friendly collaboration with local service providers
PET Environmental Certification
During the 2020 year, we were forced to make individual water bottles available for sanitary reasons due to the COVID-19 pandemic but we managed it as carefully as we could and we received a PET Environmental Certification from PET-Recycling Switzerland for the recycling of 90 Kg of PET bottles (GHG and oil savings).
Seasonal Food Service
Seasonal menus offered promoting local products and exclusive suppliers
NOVAE has been specially selected by Debiopharm for its commitment, passion and excellence, in order to offer a sustainable cafeteria services to employees working at our Lausanne headquarters. Novae is an ethical, quality-conscious partner and a ECOVADIS Gold Medalist for its CSR performance.
The provider has also achieved triple certification: ISO 9001 – Quality Management, ISO 14001 – Environmental Management, ISO 45001 – Occupational health and safety management. The priority is given for certified and organic products for those not grown in Switzerland. In our restaurant, a take-away service is also available with a returnable dish system.
Transports & Commuting
We are aware that mobility is the most greenhouse gas-emitting sector in Switzerland, therefore we want to encourage our staff to use public transportation & to go electric!  We are still considering various measures to encourage eco-mobility further. A few implemented measures include
Travel policy

for business travel to ensure that only the necessary trips are made. Travel by trains is compulsory for all trips of less than 4 hours. A SBB half-fare subscription is offered to all employee to promote the use of train around Switzerland.

Company car policy

one are offered to employees. Small cars little polluting can be borrowed for daily trips.
Bike parking

available for employees

Annual "Step Challenge"

to encourage employees to travel more by foot, and to develop healthier and "greener" habits

Electrical charging stations

rechargeable electric terminals in the parking lot, electric bikes available for short daily travel