xevinapant
Xevinapant, now under an exclusive license agreement with Merck for product development and commercialization, is a potent, orally available, inhibitor of IAPs (Inhibitor of Apoptosis Proteins). IAP inhibitors restore sensitivity to apoptosis in cancer cells and thereby deprive them of one of their major resistance mechanisms. This class of products is therefore particularly suited to be combined with widely used but often sub-optimal chemo- and radiotherapy (CRT). As leader of the class, xevinapant established proof of efficacy in high-risk locally advanced squamous cell carcinoma of the head and neck (LASCCHN) patients for which the combination provided highly significant and sustainable clinical benefit as compared to CRT alone. Increasing tumor cell sensitivity to chemoradiotherapy constitutes a highly promising strategy for xevinapant which ultimately may improve treatment outcomes for these high-risk patients and other cancer patients currently treated with similar regimens. In addition to combination with CRT, xevinapant is also being investigated in combination with chemotherapy as well as checkpoint inhibitors. An exclusive license agreement has been granted to Merck in 2021 for its further development and commercialization.
Click here for more information about Merck positions & policies
Product Snapshot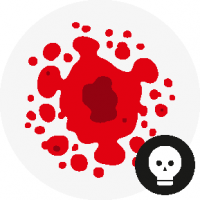 PRO-APOPTOTIC
promotes programmed cell death
Being researched in:
LA-SCCHN
Ovarian cancer
NSCLC
In short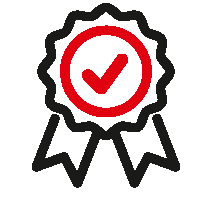 3-year follow-up results from the Phase II trial in high-risk LA-SCCHN patients revealed significant improvement in overall survival, progression free survival and duration of response with Debio 1143 in combination with CRT vs. CRT alone, suggesting that the product could become a treatment of choice for this patient population and as well as in other indications where CRT is standardly used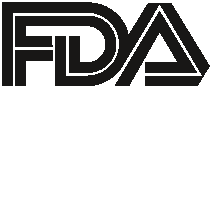 In February 2020, the FDA granted Breakthrough Therapy Designation to xevinapant for front-line treatment of Head & Neck Cancer
Focus on Head & Neck Cancer
The 6th most common cancer type worldwide
This 6th most common cancer type includes high-risk LA-SCCHN patients defined by HPV negative oropharyngeal cancer and heavy smoking. Each year over 120,000 new cases are diagnosed in the US and the EU5, with over 36,000 estimated deaths annually. Nearly half of these patients are eligible for treatment with chemoradiotherapy, therefore having the potential to benefit from pro-apoptoptic therapies. Currently, after 5 years of treatment, more than 50% of LA-SCCHN patients relapse. HPV status is a strong and consistent determinant of superior survival and the 5-year survival rates among patients with HPV-positive tumors is approximately 75 to 80%, versus 45 to 50% among patients with HPV-negative tumors. Patients face heavy consequences on quality of life and social interactions, affecting how they look, talk, eat and breathe. Despite current therapies, high-risk LA-SCCHN patients still face poor long-term outcomes.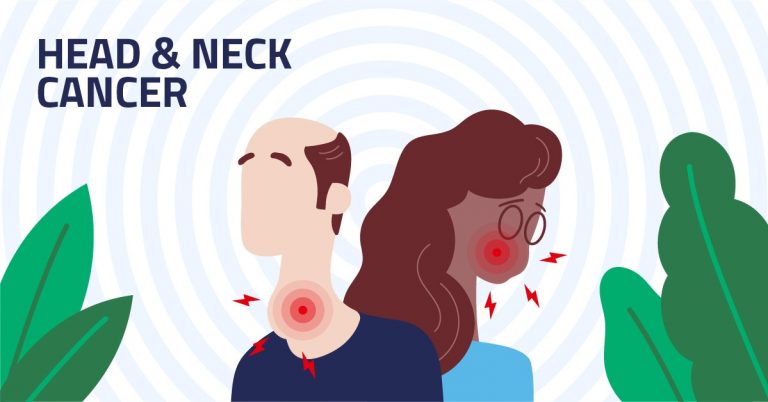 Mode of Action
Promotion of apoptosis and anti-tumor immunity
When a tumor cell is damaged by cytotoxic treatments such as chemo-radiotherapy, programmed cell death – or apoptosis – can be triggered via the activation of caspases which are negatively regulated by IAPs (Inhibitor of Apoptosis Proteins). The IAPs work to help tumor cells to escape from this controlled, cell death pathway and thus survive and proliferate. By inhibiting IAPs, Debio 1143 enhances the killing of cancer cells by CRT, facilitating the destruction of the tumor. In addition, pre-clinical studies have shown a direct enhancement T lymphocyte activation, revealing the compound's dual mode of action.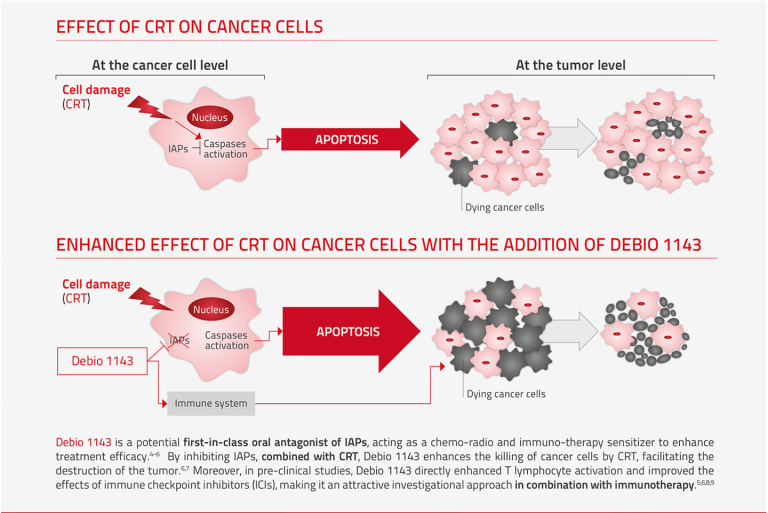 Looking forward
Registration phase in Head & Neck cancer
Recently published phase II results have supported the FDA breakthough therapy designation and the further research of the compound in Head & Neck cancer. Information on our clinical trials including the TrilynX Study can be found on our study website

Phase I trial in combination with avelumab
Patients with solid tumors including NSCLC
Xevinapant (Debio 1143) is being investigated in a phase I in combination with avelumab*, a human anti-PD-L1 IgG1 monoclonal antibody, in patients with advanced solid tumors including non-small cell lung cancer (NSCLC). The trial is being conducted under a clinical collaboration agreement between Debiopharm International SA and the Merck-Pfizer Alliance
Selected solid tumors
SMARTPLUS-106, a Phase lb/II study in combination with nivolumab
SMARTPLUS-106 is an exploratory study investigating the safety and efficacy of xevinapant (Debio 1143) in combination with the Immune Checkpoint Inhibitor (ICI), nivolumab, in patients with advanced solid tumors, such as small cell lung cancer (SCLC) or squamous cell carcinoma of the head & neck (SCCHN), who have progressed during or immediately after anti-PD-1/PD-L1 treatment.
Solid tumors in combination with pembrolizumab
CATRIPCA study
CATRIPCA is a Phase I study initiated by Dr. Phillippe Cassier, combining xevinapant (Debio 1143) with Merck Sharpe & Dohme's (MSD) anti-PD1 Keytruda® (pembrolizumab). The CATRIPCA study focuses on two cancer patient populations with conditions that are intrinsically resistant to Immune Checkpoint Inhibitors (ICI). More specifically, the trial will recruit patients without other available therapeutic options in Non-microsatellite instability (non-MSI)-high colorectal cancer (CRC) and pancreatic ductal adenocarcinoma cancer (PDAC). Up to 46 patients will be included in the dose-escalation and expansion parts, to assess the safety and preliminary efficacy of the combination, with the primary endpoint of the study extension being the Objective Response rate.