Debio 0228
Currently in Ph1/2 clinical development, the Debio 0228 ([177Lu]Lu-DPI-4452) / Debio 0328 ([68Ga]Ga-DPI-4452) program is a first-in-class theranostic pair combining a therapeutic radiopeptide (Debio 0228) and an imaging agent (Debio 0328). This novel peptide-based theranostic approach targeting the Carbonic Anhydrase IX (CA IX) allows pre-identification and subsequent treatment of cancer patients expressing this well-studied target. The recently launched GaLuCi™ study, a multi-center, non-randomized phase 1/2 clinical trial, is investigating Debio 0228/0328 in patients with locally advanced renal, pancreatic, and colorectal cancer.
Product Snapshot
Radioligand Therapy Targeting CA IX
Delivery of high-dose radiation to tumors
Being researched in:
Clear Cell Renal Cell Carcinoma
Pancreatic Duodenal Adenocarcinoma
Colorectal Cancer
In short
Initially discovered by the German biotech, 3B Pharmaceuticals (3BP), the peptide-based ligand demonstrates high selectivity and specificity for CA IX.
The first in human phase 1/2 GaLuCi™ study investigates the safety, tolerability and performance of the imaging compound, Debio 0328 and the therapeutic agent, Debio 0228.
Focus on the Mode of Action
The Debio 0228/0328 theranostic pair avoids damaging healthy tissues by delivering radioactive particles directly inside the tumor via the CA IX surface protein. Traveling through the bloodstream, the diagnostic radioligand lights up the tumor if the receptor is present, confirming the therapeutic radioligand can be used to treat the patient. The therapeutic radioligand attaches to the CA IX surface protein and delivers the radiation, minimizing the effects on healthy organs, and offering personalized, targeted cancer therapy.
Focus on the Theranostic Approach
This specific targeted approach, known as a "theranostic" approach, refers to the diagnosis and treatment of cancers using radiotracers. Through this two-pronged approach, potential responders are qualified for their personalized therapy via diagnostic molecular imaging evaluating target expression in their tumor lesions, allowing only those patients, who might potentially benefit, to receive the treatment.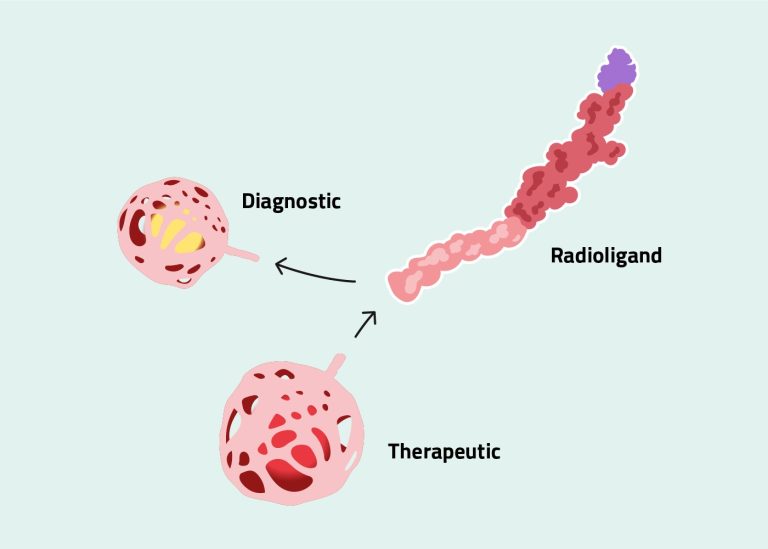 Focus on the GaLuCi™ phase 1/2 trial
Patients with ccRCC, PDAC, and CRC
The GaLuCi™ trial is the first-in-human, multicenter, non-randomized phase 1/2 clinical trial assessing safety and tolerability, imaging characteristics, and the efficacy of the theranostic pair Debio 0228/0328 in patients with unresectable, locally advanced, or metastatic solid tumors. This theranostic trial will be carried out in three stages. Part A is going to confirm the safety and performance of the imaging agent in detecting CA IX-expressing solid tumors. Part B will assess escalating doses of the therapeutic agent, Debio 0228 in patients, whose tumors show high uptake of imaging tracer. Finally, based on the recommended dose from part B, Part C of the study will further assess the safety and preliminary efficacy of Debio 0228 in clear cell renal cell carcinoma (ccRCC), pancreatic ductal adenocarcinoma (PDAC) and colorectal cancer (CRC).